Praise the Lord!  Praise God in His sanctuary; praise Him in His mighty firmament!  Praise Him for His mighty acts; praise Him according to His excellent greatness! …Let everything that has breath praise the Lord.  Praise the Lord!  Psalm 150:1,2,6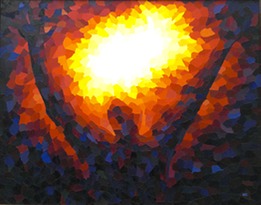 The Bible exhorts us to praise God, and He is worthy of our praise!  We can praise Him anywhere.  Sanctuary in verse 1 refers to the temple or to planet earth.  Mighty firmament refers to the regions beyond, the heavens.  God can be praised on earth or in heaven.
There are many reasons to praise God.  First, praise Him for who He is.  This passage proclaims that He is Lord and He is God.  Lord is translation of the Hebrew word Yah, an abbreviation of Yahweh.  That is God's covenant name.  It refers to His eternal love for all people and His willingness to enter into a covenant relationship with them.  God is a translation of the Hebrew word El, an abbreviation of Elohim.  That name refers to His power and glory. 
Second, praise Him for what He has done – "His mighty acts."  This refers to all He has done in the past, all He does in the present, and all he will do in the future.
Third, praise Him for "His excellent greatness," which literally means "the multitude of His greatness."  There is no one like Him.  Praise should come from everyone ("everything that has breath").  Sadly, there are billions of people on earth that never give Him praise.  May that never be said of those of us who claim Jesus as Lord.
When we praise God, we are obeying Scripture.  Obedience always honors the Lord and demonstrates the reality of our faith.  When we praise Him, our lives spiritually shine for Him.  One of the meanings of praise is "to shine."  In Matthew 13:43, Jesus said the righteous will shine at His coming.  We can shine for Him now as we consistently praise Him.  When we praise God, we are also loving Him.  Praise is an act of devotion, adoration, and worship.  Offer praise to God out of a heart of love for Him today!
Holy Father, thank You for Your overwhelming love.  Thank You for salvation through Your Son, Jesus Christ.  As I live this day, may my lips praise You and my life be an offering of praise that is acceptable in Your sight.  In Your name, Amen.